As Thai police moved to arrest and deport another American teacher with a history of sex abuse this week in the northern Thai province of Phayao, one of the most dangerous US teachers with a prior history of sex abuse to set foot in the kingdom came before US judges. He pleaded guilty to fraud and identity theft charges.
An American teacher was arrested discreetly by immigration police in the Thai province of Phayao province this week after authorities learned that he had prior convictions for sex abuse in the United States. It follows guilty pleas on Friday last in an Alabama courtroom to fraud and identity theft charges from a notorious American who worked in Thailand as a teacher while running from justice in the United States where he absconded from a trial on rape and sodomy charges linked with a 5-year-old child on 2016.
Arriving in Thailand with a false passport and stolen identity relating to last Friday's charges, the 26-year-old Matthew Hall led a tumultuous life in the kingdom. This included lies, false references, splitting up a family and leaving unpaid debts. His notoriety grew so much that a blog was created by expats which eventually led US authorities back on his trail. He was arrested by Thai police in September 2017.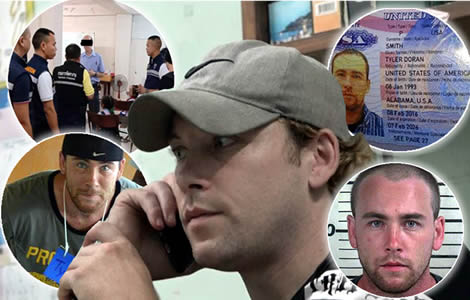 Thai immigration police have announced the arrest of an American teacher in Thailand who has previously been convicted of child sex abuse in the United States. Thai authorities obtained confirmation of the man's status from the US Department of Homeland Security.
The arrest of the man occurred in Phayao province where the US citizen was holding himself out as a English teacher in a commercial English school converted from a private residence. 
US teacher had a valid visa but no work permit
Immigration police have revealed that the man had a valid visa to be in Thailand but was teaching at the school without a work permit. He was arrested for engaging in unauthorised employment in Thailand.
The Head of Thailand's Immigration Police, Lieutenant General Sompong Chingduang, disclosed that the man will be deported from Thailand and blacklisted from reentering the kingdom.
Another American teacher who worked in Thailand in 2016 and 2017 pleads guilty in Alabama to fraud
The arrest of the English teacher comes days after another US national with a criminal history of sex abuse in the US and who worked in Thailand as a teacher, pleaded guilty in his home state of Alabama to social security fraud and identity theft associated with his sojourn in Thailand from October 2016 to September 2017.
Fled charges of rape and sodomy of a minor in 2015
The US man named as Jackson Matthew Hall entered Thailand on the 6th October 2016 using a false passport and an assumed identity that he had created for himself in Alabama to make his escape from US authorities before he was due to appear in two seperate courts in relation to serious child sex abuse charges including first degree rape and sodomy of a 5-year-old child. The trial was due to take place in 2016. It is not clear but it appears that Hall arrived in Thailand in late 2015 or early 2016 and later left the country for a period. 
Obnoxious behaviour of American in Thailand
There are reports of him in Phnom Penh Cambodia at that time where he also drew attention to himself with his obnoxious behaviours ranging from his sincere divulgence of a false and contrived past to quick flashes of anger or jealousy over women whom he took an interest in.
Faked his own death but experienced US investigators in Alabama were not so easily fooled
The then 26-year-old American had faked his own death by leaving his wallet, some old clothing and blood along the Tennessee River where they were found by fishermen who alerted the local police. Experienced US investigators quickly identified it as a hoax. 
US man assumed the identity of 23-year-old Tyler 
They later discovered that Mr Hall had assumed the identity of an associate, Mr Tyler Doran Smith, a 23-year-old friend, to have a new passport issued and fly out of the United States. The American was out on bail of $30,000 in relation to the sexual abuse charges after being indicted in 2015. The US man had earlier been arrested by police in Alabama after failing to surrender to them following his indictment on the rape and sexual abuse charges. At the time, local media in Alabama including a local newspaper, the Cullman Times in Cullman county, reported that Hall already had a long and extensive criminal history of convictions.
American law enforcement lost his trail in Malaysia
American investigators found that the fugitive who had skipped bail, flew to Chicago and on to Canada and Japan. From there, he flew to Malaysia. That was where the trail stopped for US police agencies.
Drew attention to himself in Thailand with his own bizarre lifestyle and behaviour
However, Mr Hall did let the trail go cold for US law enforcement. It was not long before he brought himself to their attention with his own bizarre behaviour and disastrous lifestyle after he arrived in Thailand. He entered the kingdom on the 6th of October 2016 and from that moment began to draw attention to himself. He did this by alternatively bragging to people he met about fantastical stories of special armed forces service in the US military to misleading and lying to potential employers at English schools where he applied for teaching positions.
Held some teaching jobs in Thailand 
The American did hold down some jobs at various locations in Thailand for short periods in Rayong, Khon Kaen and Bangkok. Weeks after his arrival back in Thailand in October 2016, a blog was set up to coordinate reports of his exploits. This indicates the alarm and suspicion that the man provoked from normal expats and foreigners living in Thailand wherever he went.
Took Thai wife away from South African man
The American was reported to have taken up with the Thai wife of a South African man living in Thailand. The South African was determined to get his wife back as the couple had two children and her family were also concerned at the woman's abnormal and unpredictable behaviour after meeting Matthew Hall. 
Woman told an acquaintance that she feared the US man when he spoke to her in Thai
They believed that the woman was in fear of the American. This was confirmed by one foreigner who met the couple and spoke to the Thai woman whose name was Nittiyya or Neugn in her native tongue. He divulged that the Thai woman had told him that she feared the US man and was only trying to help him obtain employment so that she could be free of him. Hall reportedly was roused into a temper at the interaction between the two as he could not speak Thai fluently.
Blog launched to track dangerous American's life in Thailand, led US authorities to him
The blog on the American man and his exploits with his Thai girlfriend reached the ears of US law enforcement in December 2016. This is how American authorities ultimately tracked him down to Thailand. 
American Thai couple obtained nearly ฿1 million in loans during 2017 from her friends
In the course of 2017, the American with help of Neugn, is reported to have borrowed up to ฿1 million from friends of hers and kind strangers that coupled met on their way in Thailand and inveigled into helping them out. At one point, a Thai man put out a reward for information on Tyler Smith's whereabouts (Hall's assumed name) as the American had damaged his pick up truck which was loaned to him and returned afterwards. Hall had just dropped it back with the keys in the ignition without explaining the damage or offering to pay for it.
False references and lies accompanied the American 
During that period, there were also countless reports of schools discovering false references and outright lies causing Mr Hall to be continuously on the move. At various points, he told people he was on a witness protection programme or was being hunted because he had deserted an elite special armed forces unit in the US military. A life of lies.
Police arrested him in September 2017 on Ko Samui
Finally, after causing grief and disappointment wherever he went, sowing lies and distrust, the American was apprehended. It happened on Nar Ton Pier on the southern island of Ko Samui on Friday the 22nd September 2017 when Thai police arrested him.
Girlfriend had freed herself from him and helped Thai police track him down
In 2017, Thai police officer Lieutenant Colonel Nutthorn Praosunthorn briefed the media from Samui police station where Mathew Hall's campaign of lies had finally been halted as he was held in custody. The police officer revealed that it was his former girlfriend Neugn having freed herself of him by then, who helped Thai police locate and arrest him on the holiday island. Neung, it is reported is now living happily back with her family and children. Mr Hall alias Tyler Smith was extradited to the United States a month later.
Incarcerated in US prison facilities after being deported back to the United States
It is reported that since then, the US man has been held in a range of US prison facilities. The guilty pleas on Friday last in Alabama were in relation to his subterfuge in escaping justice and avoiding trial on the more serious charges of rape and sodomy of a minor. Curiously, there has been no confirmation if the American has stood trial or yet been convicted on these charges. Given his prior extensive criminal history including sexual offences, it is quite possible that the man may face life behind bars if that came to pass.
Father in the US blames it all on a Thai woman
A last entry in the blog detailing his turbulent and dishonest life in Thailand was made exactly one year ago by a Mr Levi Hall, Matthew Hall's father. He blamed his son's endless incarceration in the United States on an evil Thai woman. It would appear that the lies continue.
Further reading:
Dead UK man found in Nakhon Ratchasima named as 62-year-old Terence Cockrill from Norwich
Pattaya police release grainy CCTV of UK man picking up the woman he later brutally murdered at home
Bampot American sent for mental health review after suspect package alert near US Bangkok Embassy
American drug dealing fugitive is declared dead at Sa Kaeo hospital 8 days after shooting
Probe into death of UK man in Nakhon Ratchasima after his body was found 1 km from trip petrol stop
Dutchman in Suphan Buri missing from wife with reports of a mystery rendezvous in Uthai Thani province
Ex UK soldier flies home following rescue by a compatriot after being abused by his Thai partner's family
83-year-old man rescued by a compatriot from a small room where he was fed on rice and water
Donate to Ron's rescue and return home from Thailand to Brighton in the UK here
US actor and Thai son struggling to survive virus ordeal in India as they wait to fly home to life in Thailand
US man and 12-year-old Thai son face life on the streets in India if they cannot return to Thailand right now
Australian man's heartbreak cut off from his Thai wife – begs to be included on repatriation flights
Spouses of Thai wives down under denied access to limited repatriation flights from Australia this week
Police to track down arrivals last night who escaped Suvarnabhumi Airport in defiance of emergency
Australian retiree is spending his own pension money on supporting the poor during the crisis in Chiang Mai
Stranded 66-year-old German tourist seeks help on the street from a Good Samaritan in central Bangkok
Police in Phuket await post mortem results after deaths of two elderly westerners last weekend at home
Stranded Russians offered free food in Phuket as Aeroflot begins to airlift over 21,000 stranded home to safety