Mark Brown filed a report hours later at Pattaya Police Station with the help of a 38-year-old Thai friend. He told police that the valuable watch was of great sentimental value and he wanted to press charges of theft against the woman involved.
A British man in Pattaya has warned other foreigners in the resort city to pay attention to valuables and belongings after he reported a gold Rolex watch as stolen from his condominium in the Jomtien area of the holiday city by a young woman who he was entertaining and who was also known to him.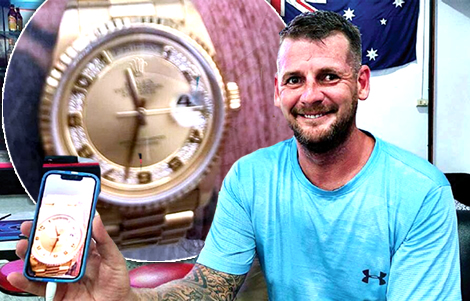 A British man staying in the Jomtien area of Pattaya, on Sunday 7th of May, reported to Pattaya Police Station that a gold Rolex watch valued at over ฿900,000 was stolen from his condominium after he brought a Thai woman, previously known to him, home.
The 39-year-old, identified as Mr Mark Brown, said after the pair had arrived at his apartment, he had taken the opportunity to use the shower.
Left the Rolex watch on a surface top after unloading belongings before taking a shower at his condo
Before doing so, he had unloaded and deposited his personal belongings onto a surface top including the expensive Rolex watch with embedded diamonds.
Mr Brown filed his complaint via a translator, a Thai friend identified as 38-year-old Ms Wasana, with Captain Chonlawit Athipansi, the Deputy Inspector of Investigation at Pattaya Police Station hours after the incident.
He explained that he had known the woman who ran off with his watch for some time, having befriended her in the precincts of his condominium complex sometime before Sunday. 
Quickly noticed the watch missing, ran to the window to see the young woman running from the complex
He said that when he came out from the shower on Sunday, he noticed his watch was missing and went to the window where he could see the woman running from the condominium complex in the Bang Lamung area of Pattaya.
The incident occurred during darkness in the early hours of Sunday morning last.
He told the police officer who took his report that as well as being a valuable item, the watch was also of great sentimental value to him.
He asked that the police do everything in their power to bring it back to him and confirmed also that he wished to press criminal charges against his female guest.
Further reading:
Pattaya Motosai in fracas with Hong Kongers over ฿160 fare, refunds money after police are called
Russian man barrels his way into a Pattaya Seven-Eleven store smashing the glass door to pieces
Unemployed US Thai man arrested by Pattaya police for 7 Eleven armed robbery in Banglamung last week
Armed Pattaya police patrolling the resort city in force with fears of a spike in crime over virus shutdown
Fast turnaround at Bangkok Bank as armed robber walks out with ฿400,000 in Friday afternoon heist
Disabled German robbed by stealth in Pattaya by a thief that he took to be a kind hearted woman offering a hand
Pattaya's Russian tourists targeted by motorcycle snatch gang as the city's hotels struggle with lower occupancy
UK tourist just arrived in Pattaya for 2020 arrested for at least two thefts in five days by police on his trail
Pattaya police track Thai woman believed to have stolen a disabled Canadian's wallet at the beach